Advising Office hours and Q&A meetings for Juniors and Seniors
Dear Psychology Majors,
as noted in an earlier email, we will offer regular office hours during shopping period (see schedule below). Please just log into the advisor's zoom room during those times and we will let you in - no need to set up an appointment beforehand. We will also have two Q&A sessions during which all three of us will be available. One for juniors and one for seniors (see information below).
Information sessions:
Monday 10-11am for all juniors
Tuesday 11:30-12:30 for all seniors
Here is the link for both meetings:
http://yale.zoom.us/my/juttajoormann
And here is the schedule for advising office hours: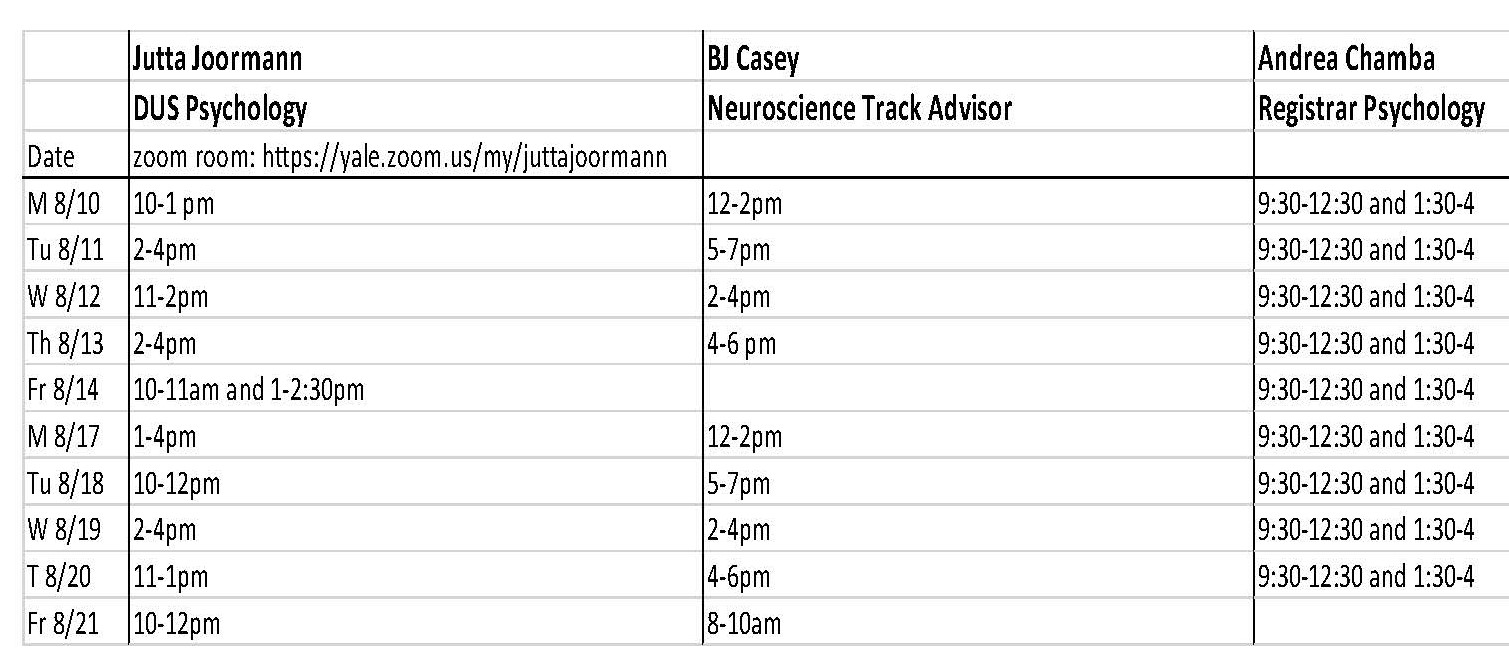 Important Information on Fall Advising
Dear Majors in Psychology,
We hope you are all having a great summer. Please read this message carefully as it has important information on fall courses and advising.
As you know this semester pre-registration will be in place for all courses and "shopping period" will be considerably earlier than in the past starting August 10. By August 7, expanded course descriptions will be available online to help with course selection. By August 21 at 5pm preliminary schedules will need to be submitted. We will be offering office hours via zoom every day of the week starting August 10 until August 21 and the schedule for these office hours will be posted on the webpage (under announcements from the DUS). You do not need to email us to set up meeting times – just show up in our zoom rooms during the times we have posted.
We will be conducting our own pre-registration for research methods courses for the full year (Fall 2020/Spring 2021). Information about this can be found below. So if you need to take research methods during this academic year, check out the information provided below.
Research Opportunities on our website are in the process of being updated and should be done by August 1st. If you want to get involved in a lab, check out the research opportunities tab on the Psychology Department webpage. You need to complete a tutorial form to register for these courses. Tutorial forms are posted under "Major Forms" and can be downloaded and are due August 19.
https://psychology.yale.edu/undergraduate/research-opportunities
https://psychology.yale.edu/undergraduate/undergraduate-major-forms
4. We will be holding zoom meetings, one for juniors and one for seniors, to answer any questions you may have about planning for fall semester. We will be announcing the dates/times shortly via email and on the webpage.
5. If you are a senior and you are interested in serving as a senior mentor this year, please send an email to jutta.joormann@yale.edu.
Please let us know if you have any questions.
Research Methods Pre-registration 2020/21 - due 8/7!
As you know, we are pre-registering majors for our research methods courses (200-level). Every student in the major is required to take one research methods course and to make sure we can place everyone who needs to take it this year, we are pre-registering for Fall 2020 and Spring 2021 using the following survey.
Please complete the survey using this link by August 7!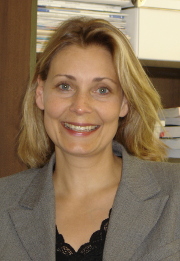 Dr. Jutta Joormann
Director of Undergraduate Studies, Psychology
For any questions about the Psychology Major please email me at jutta.joormann@yale.edu to set up a time to meet.
---