Advising Office hours and Q&A meetings for juniors and seniors
Dear Psychology Majors,
as noted in an earlier email, we will offer regular office hours during shopping period (see schedule below). Please just log into the advisor's zoom room during those times and we will let you in - no need to set up an appointment beforehand. We will also have two Q&A sessions during which all three of us will be available. One for juniors and one for seniors (see information below).
Information sessions:
Monday 10-11am for all juniors
Tuesday 11:30-12:30 for all seniors
Here is the link for both meetings:
http://yale.zoom.us/my/juttajoormann
And here is the schedule for advising office hours: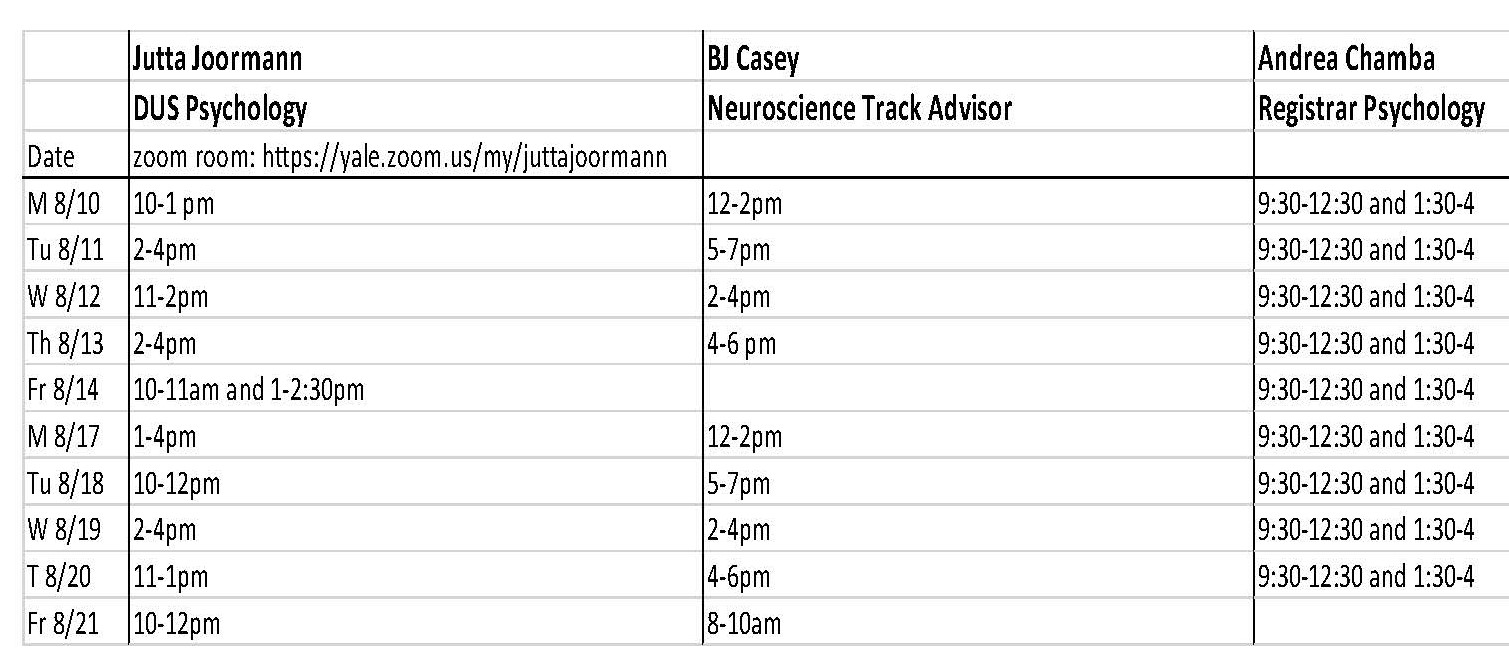 Advisors
Dr. Jutta Joormann

Director of Undergraduate Studies

Office: K 205

Office Hours: By appointment via email

Area: Clinical

Dr. BJ Casey

Neuroscience Track Advisor

Office: SSS 414D

Office Hours: By appointment via email

Area: Clinical & Neuroscience

Dr. Arielle Baskin-Sommers

Clinical and Graduate School Advisor

Office: Kirtland 217

Office Hours: by appointment via email

Area: Clinical

Andrea Chamba

Department Registrar

Office: Kirtland 109

Office Hours: TBD

 
 
Senior Mentors (2019-2020)
These are senior mentors appointed by the DUS. If you have any questions about course selections and majoring in Psychology and want to talk to students who have been in similar situations, contact them!
Abigail Hopkins

Jasmyne Pierre

Neuroscience track

Premed

Casey Ramsey

Hannah Logan

varsity athlete

studied abroad

Karen Yao

double majoring Psychology and Literature